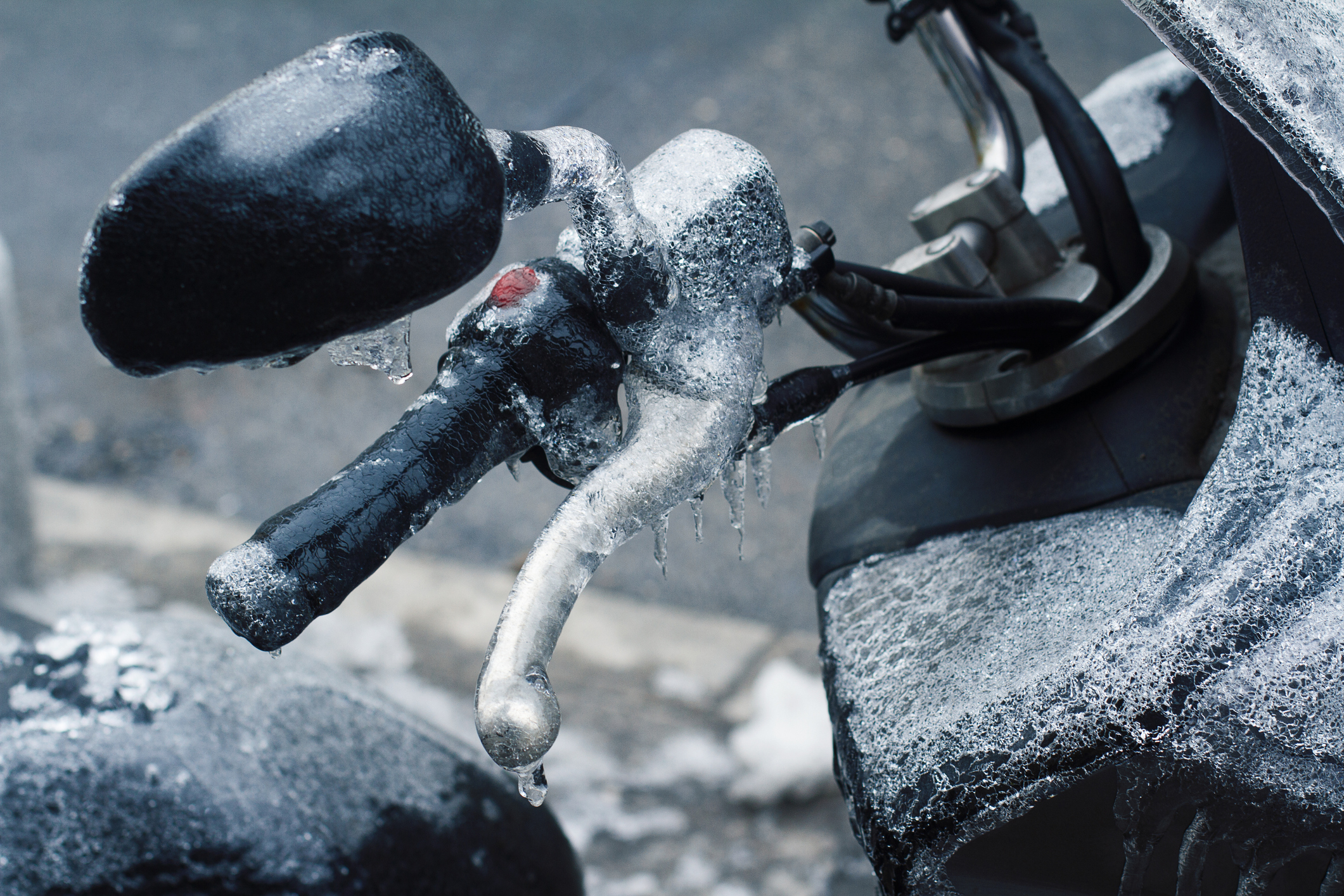 Top Tips For Riding Your Motorcycle This Winter
14-Dec-2022
---
With winter in full swing, it's crucial to take some extra considerations when taking your motorcycle out. 
To ensure you're safe on the road and you get the best experience riding in these baltic conditions, we've compiled a list of our top 5 tips for riding your motorcycle this winter.
1. Making the right preparations before riding
Compared to the warmer months, it is imperative that you carry out some thorough checks on your motorcycle before the start of your journey. 
This would involve checking the following:
➤ Tyres and tyre pressure
It's highly important that you check your tyres before you set off. You will need to check that the tyre pressure is correct, and that you have no damage to any of the tyres.
With the colder weather, it means that the rubber will be colder on your tyres. Ensuring you stay on top of your tyre pressure is highly recommended as the air inside will expand / contract due to temperature changes.
➤ Lights 
With the darker mornings and evenings, it's essential that your lights are working well so that not only are you able to see, but other road users are able to see you as well. When turning on your engine, walk around your motorbike and check that all the lights are on and working properly.
➤ Oil Levels 
Ensuring your oil is filled is essential as if not it can cause severe damage to your engine in the long run. You will be able to tell if your oil is low as a warning light will appear.
➤ Brakes 
Making sure your brakes are working properly is crucial, otherwise it can have serious consequences if not. It will be unsafe for yourself and other road users around you.
To test your brakes,  Squeeze the front brake lever and try to push the bike forward. The rear wheel should lift and the lever shouldn't touch the handlebar. You should then redo this for the rear brake.
2. Being alert with your vision
With the darker mornings / evenings, as well as the disruptive weather we will experience, it is vital that when out on the road in the winter you are alert as ever.
It is known that the roads will be wet, icy, or even covered in dirt, meaning your attention will be drawn to look down at this. Even Though it is good to be aware of your surroundings, it is pivotal that you are looking ahead and scanning the road / your surroundings rather than looking down.
This then means you will have more time to respond to any potential hazards. The key is to keep your focus like you would in any other weather conditions, and ensure you apply this at all times.
Being able to read and see the roads is vital as it will ensure the safety of yourself and other road users around you this winter.
3. Appropriate riding clothing for winter
It is just as important now to ensure that you have the most appropriate riding gear this winter, while making sure you are layering up with the colder weather. 
You should think about having the following riding gear:
➤ A base layer / thermals 
➤ A Jumper
➤ Motorcycle Jacket 
➤ High Vis
➤ Gloves
This will then mean you'll be prepared for the weather conditions you may experience when on the road.
4. Check your motorcycle suspension
We wouldn't be MH Suspension without giving you tips on how to ensure your suspension is prepped and ready for the winter. 
You will want to make sure that you consider softening your suspension. If not, and kept firm, this can cause a reduction in grip on the road. Meaning that you will be at risk of not being able to grip as well on the slippery roads.
We have recently written a blog on preparing your suspension for winter, so make sure you take a read to find out more!
5. Take it slow and keep your distance
Lastly, with the change in the weather conditions it is vital that you take things slow and are aware of your surroundings. This is because you will need to be wary of the road conditions as you will experience, such as:
➤ Wet Roads
➤ Reduced Visibility 
➤ Black Ice
The different road conditions and decrease in visibility will mean that you may need to naturally increase your stopping/braking distances compared to a warmer day. So you will need to be sure that you increase the distance between you and the riders in front of you.
We hope that these top tips will help you prepare yourself for riding your Motorcycle this Winter. As always,  if you have any questions then please do get in touch. We will always be more than happy to help answer any queries you may have!